DIGITIZING THE INACCESIBLE
Quickly turn asset data into digital insights, with Elios 3 - the first mapping and inspection indoor drone, offering an unmatched combination of intelligence, versatility and stability.
SAFER, FASTER AND PRODUCTIVE INSPECTIONS.
Indoor drones reduce the need for scaffolding, increasing your savings in the long run and keeping your inspectors safe. They are not just future technology, they are already a necessity in a constantly changing digital world.
Immersed in the Fourth Industrial Revolution, every organization seeks the digital transformation of its operational processes without forgetting its profitability and the improvement of the work environment. Elios 3 helps the industrial sector to achieve its objectives by taking its inspections and mapping one step further.
Elios 3 is a powerful data-harvesting tool.
Relying on the power of computer vision and LiDAR mapping, Elios 3 is a versatile indoor drone opening doors to a world where performing systematic inspections does not require months of training, reporting is done intuitively on a 3D model of your asset, and situational awareness is built into the piloting app.
Much more than a flying camera
FLYAWARE™ DESIGN
FlyAware™ is the unique combination of computer vision, LiDAR technology, and a powerful NVidia graphic engine. Acting as a centimeter-accurate indoor GPS, it builds real-time 3D maps enabling the drone to sense its surroundings instantaneously. Today, Flyaware™ allows for groundbreaking stability and highly accurate locational awareness. Tomorrow, it is the promise of complex confined spaces inspections performed in full autonomy.
Stone-still stability. No matter the conditions.
The all-new SLAM-based stabilization algorithm catches the tiniest unpredictable movements of the drone and instructs the flight controller to compensate for it. This allows for the drone to float in the air still as a stone even in the toughest conditions. With Elios 3, pilots from all skill levels will succeed at performing complex missions with close to no training.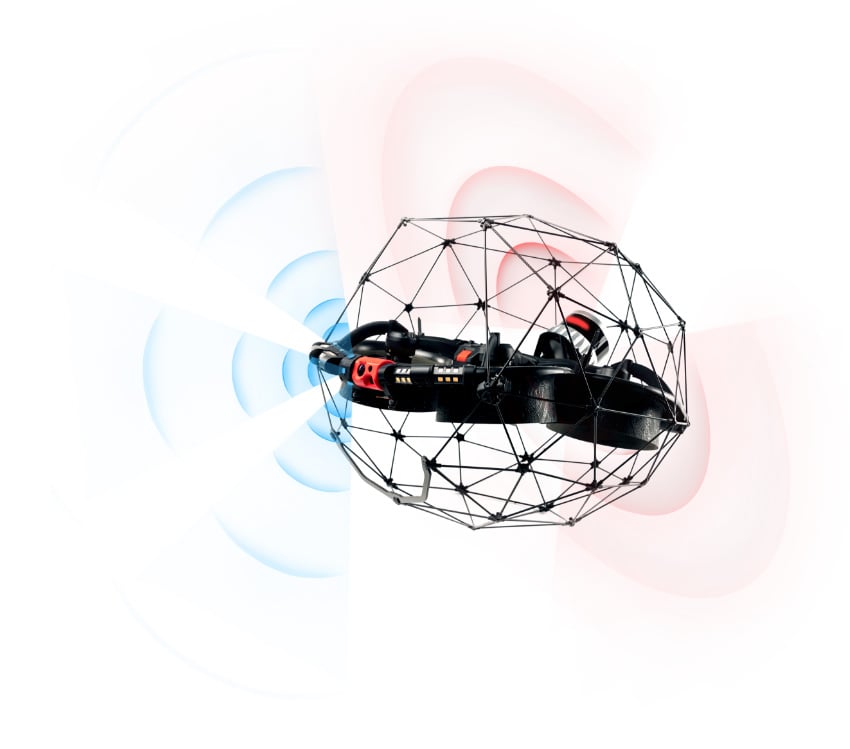 Flawless locational awareness.
The embedded LiDAR constantly scans the surroundings to build a high-density point cloud map. This map is displayed instantly in the Cockpit App, empowering pilots with exceptional locational awareness. A real-time 3D view of the drone's trajectory and environment provides crucial data.
A versatile and future-proof inspection tool.
The modular payload bay features two ports. One dedicated to the LiDAR and one for auxiliary payloads. This unique integrated design provides aerial capabilities for a range of upcoming indoor applications. It turns Elios 3 into a versatile, future-proof tool, configured to fit your mission needs.
Ready for the tough work.
Designed after Flyabilty's patent-pending collision-resilient flight controller, Elios 3 is fit for use in the most complex industrial settings. With its signature cage and unique reversing motors, Elios 3 is the only drone in the market that can recover from flipping upside-down without crashing. The rugged IP-44 design allows for the inspection and mapping of harsh environments without concern for water splashes and dust.
*Elios 3 is not certified IP-44 but it has been designed to comply with such rating according to the ingress protection code.
INSPECTION IN UNDERGROUND MINING
TOOLS TO OBTAIN HIGH-QUALITY RESULTS
NEWS ABOUT ELIOS 3 IN CHILE
High-tech drone allows you to eliminate risky tasks in mining
The latest drone technology arrived in Chile, it is Elios 3 from the Swiss company Flyability...
Use in works will allow to reduce accident rate:
Focused on improving processes in mining, infrastructure and reaching places where man cannot access...
RECEIVE THE ELIOS 3 TECHNICAL SHEET IN YOUR EMAIL